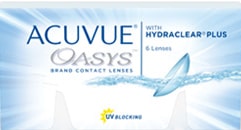 Sutcliffe Vision Center promotes Acuvue Oasys contact lenses. They are the most comfortable lenses available and we highly recommend this brand to all of our customers. It's bye, bye to dry with the #1 doctor-prescribed contact lens in the U.S. ACUVUE® OASYS® Brand features next generation HYDRACLEAR® Plus** technology that can keep your eyes comfortable all day long – even in tough surroundings that can make your eyes feel tired and dry.If you prefer another brand we can order for you on the spot and have them delivered right to your door.
Testimonial:
These are the best contacts ever! Like all the other reviewers I don't even feel that I have them on. With other brands my eyes would feel dry and tired and I couldn't wait to take them out. As soon as I would take out my other contacts my eyes felt relieved and felt like they could breath again. On the other hand, with these new contacts my eyes don't feel dry and tired, my eyes are hydrated and can breath. I highly recommend these, you won't be disappointed.

– Chrissy, Jupiter Fl.